Dan časnih sestara u Hrvatskoj katoličkoj misiji Beč
Nama u Hrvatskoj katoličkoj misiji u Beču je izrazito važna 2019. godina, jer obilježavamo 50. obljetnicu od kako su Hrvati katolici dobili na korištenje od Bečke nadbiskupije crkvu Am Hof, koja je postala duhovni centar naše Hrvatske katoličke misije. Jubilarnu godinu 5. svibnja 2019. otvorio je provincijalni ministar Hrvatske franjevačke provincije svetih Ćirila i Metoda iz Zagreba, fra Ilija Vrdoljak. U sklopu proslave jubilarne godine dogovorili smo uz ostale aktivnosti i događanja proslaviti i "Dan časnih sestara" koje su u HKM Beč stigle prije 50 godina. Svim sestrama koje su djelovale u HKM Beč smo poslali pozivnice da dođu k nama, kako bi zajedno zahvalili Bogu za 50. obljetnicu djelovanja sestara u HKM Beč. Nažalost, zbog bolesti i nemoći kao i obaveza nisu se sve sestre mogle odazvati našem pozivu.

Dana 6. listopada 2019. upriličili smo zahvalno euharistijsko slavlje koje je predslavio fra Josip Koren, voditelj Hrvatske katoličke misije u Beču, a uz njega su koncelebrirali na svetoj misi u 9:00 sati fra Josip Sedlar, student crkvenog prava u Rimu i vlč. Ivan Bingula student crkvene glazbe u Beču, a u 11:00 sati uz voditelja misije bio je fra Ivica Pečnik, dušobrižnik u Beču, te naš đakon fra Anto Mandić. Mise su se slavile u zahvalu Bogu za djelovanje naših sestara u Beču kroz 50 godina kao i za naše pokojne sestre koje su djelovale u Beču, a to su s. Zdravka Tikvić, s. Silvija Batinić, s. Ljubomira Martić i s. Bogumila Lijović.

Svečana sveta misa je započela ulaznom procesijom u kojoj su uz svećenike, đakona i ministrante, sudjelovale sve sestre. Na početku svetoga misnog slavlja fra Josip je rekao da se slavi najavljivani "Dan časnih sestara". Zahvalio je sestrama što su se odazvale pozivu i došle proslaviti 50. obljetnicu djelovanja sestara. Prisutne sestre je pozdravio i poimence im zaželio dobrodošlicu. Prisutne su bile: s. Bonifacija Pranjić, s. Magdalena Pranjić, s. Silverija Bošnjak, s. Viktorija Jukić, s. Filipa Mlakić, s. Anica Markelić, s. Mirjam Kolar, kao i sestre koje su došle ispred Uprave naše Provincije, s. Kata Karadža provincijska predstojnica i s. Ines Vujica savjetnica.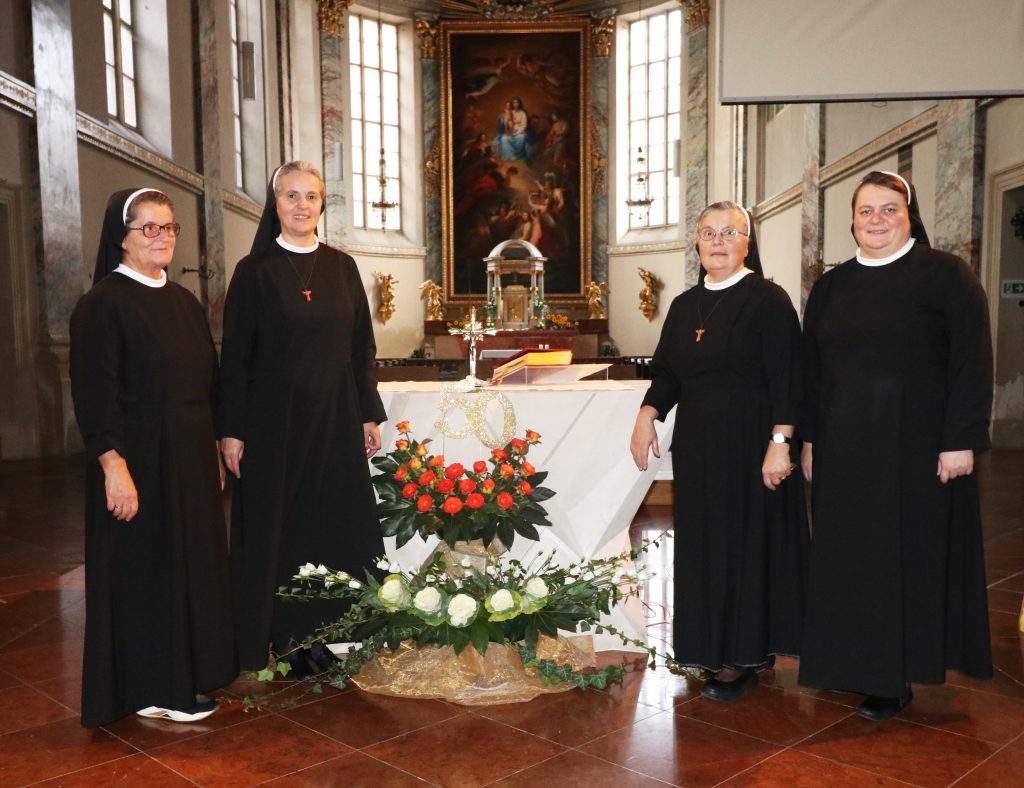 Za vrijeme propovijedi na projekcionom platnu su se izmjenjivale fotografije svih sestara koje su djelovale i danas djeluju u Beču. Uz fotografiju su također napisane i godine djelovanja pojedinih sestara u HKM Beč. U prigodnoj propovijedi fra Josip je govorio o povijesnom kontekstu koji je vladao prije nego su sestre došle u Beč, te o okupljanju hrvatskog naroda u Beču i njegovom sve većem rastu. Fra Josip je istaknuo kako svećenici uvijek idu sa svojim narodom, pa se tako ovdje uz druge svećenike Hrvate, našao fra Mirko Čović, franjevac Splitske franjevačke provincije, koji je najprije djelovao u zapadnoj Austriji, a 1955. godine dolazi u Beč i ovdje pokušava okupiti svoje sunarodnjake, Hrvate katolike. Tako je početkom siječnja 1955. imao prvu svetu misu na hrvatskom jeziku za naše ljude u crkvi sestara uršulinki u Johannesgasse 8, u 1. bečkom kotaru. Naši su se ljudi tih godina okupljali po raznim bečkim crkvama. Godine 1960. fra Mirko osniva u Singerstrasse 7, u 1. kotaru "Hrvatski dušobrižnički centar" i tim činom se "rodila" Hrvatska katolička misija u Beču. Početkom 60-tih godina prošloga stoljeća dolazi na privremeni rad sve više i više radnika iz tadašnje Jugoslavije. Fra Mirko vidi da ne može sam brinuti za tolike Hrvate katolike, te stoga njegova Provincija 1967. godine šalje još jednog svećenika u liku fra Mate Božića, da bude na pomoć fra Mirku. Fra Mate je bio vrlo agilan, ali usprkos tome, ni on nije mogao sve poslove koji su bili pred njim odraditi, prije svega bila je velika muka naći adekvatnu crkvu za toliki narod. Početkom svibnja 1969. netko je saznao da se ova crkva Am Hof rijetko koristi, bila je gotovo prazna, pa su molili rektora bi li dozvolio Hrvatima da tu slave svete mise. Najprije je dobio dozvolu i bile su dvije mise, ali poslije toga je crkva zatvorena, ljudi su se našli pred zatvorenim vratima. Fra Mate je tada bio prisiljen otići s narodom pred katedralu i tamo tražiti od odgovornih osoba neko mjesto gdje bi se Hrvati mogli okupljati. Nakon pregovora izborili su se za ovu crkvu Am Hof. Broj vjernika se sve više povećavao i fra Mate uviđa da ne može sve poslove svladati, nisu samo mise nedjeljom, nego i sakramenti, potrebno je držati i vjeronauk, narod nije znao njemački jezik, trebali su pomoć u raznim oblicima od odlazaka u razne državne ustanove do pronalaženja poslova. Fra Mate je zavapio poput Habakuka iz današnjeg čitanja gdje se kaže:"Gospodine dokle ću zapomagati, a da me ti ne čuješ?" Tražio je razne sestrinske zajednice u Hrvatskoj i Bosni i Hercegovini i molio ih bili bile spremne djelovati među hrvatskim vjernicima u Beču. U jednom trenutku je dobio zeleno svjetlo iz družbe Školskih sestara franjevki Bosansko – hrvatske provincije sa sjedištem u Sarajevu. Ondašnja provincijalka s. Marija Klicić sa svojom upravom je pročitala znakove vremena i donijela odluku o slanju časnih sestara u Beč. Pročitat ću dio prepiske iz pisama s. Marije fra Mati od 16. svibnja 1969.: "Dragi fra Mate, danas sam ponovo dobila vaše "HITNO" pismo, pa vam ja "HITNO" odgovaram ali ovaj put da vas razveselim. Konačno smo odlučili ipak dati časne sestre u Beč." Vjerujem da nitko nije bio sretniji od fra Mate. Odmah je pohrlio u biskupiju i zamolio dozvolu da sestre mogu doći ovdje. Dana 2. lipnja 1969. dobiva službeni dopis iz Nadbiskupije Beč da su sporazumni da tri hrvatske časne sestre dođu ovdje i rade među našim ljudima. Već 11. lipnja 1969. časna sestra Marija šalje podatke o sestrama koje bi trebale doći u Beč. S. Marija piše: "Ne znam hoće li to biti dovoljno ali se nadam da ćete se s našim sekama brzo upoznati i da ćete biti zadovoljni jer su to dobre i vesele sestre."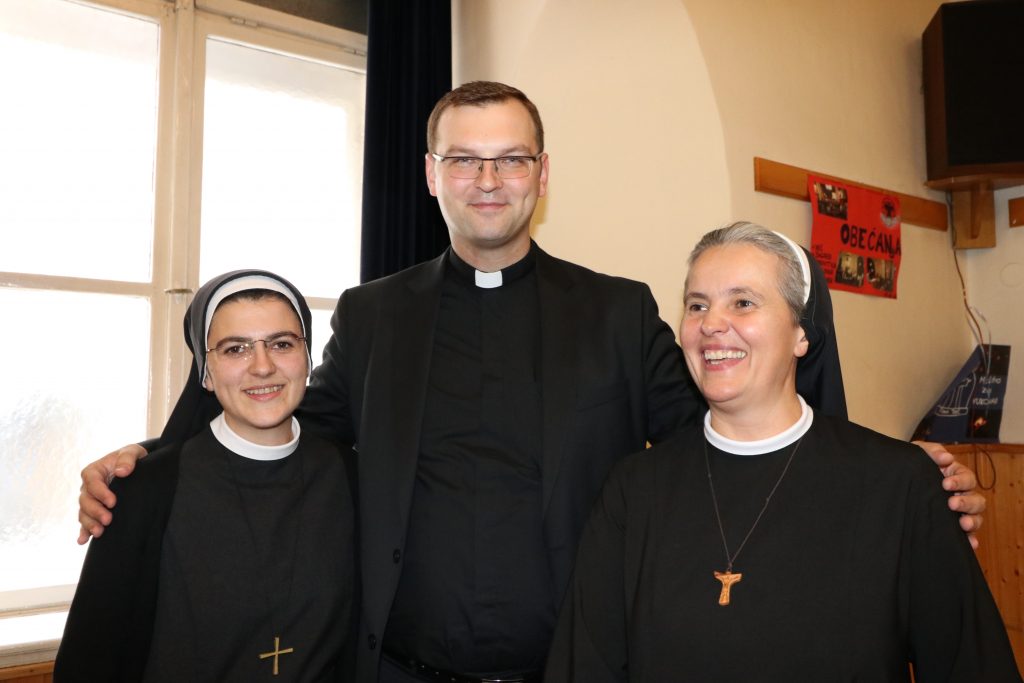 Nakon ovog povijesnog presjeka fra Josip Koren je istaknuo da su sestre ovdje od kad je dobivena i crkva Am Hof. Stoga smo u sklopu obilježavanja 50. obljetnice hrvatske crkve na Am Hofu, htjeli proslaviti i Dan časnih sestara i evo hvala Bogu pozvali smo ih i jedan dio njih se odazvao i danas su među nama. Sestre su kroz ovih 50 godina ovdje imale vjeronauk, čistile su ovu crkvu, uređivale je, posjećivale bolesnike, odlazile s ljudima u razne urede, vodile crkveno pjevanje, sakristansku službu, kuhale su, brinule su ne samo o ljudima nego i o nama fratrima i danas daju od sebe ono što najviše mogu. Naša Misija se ne može zamisliti bez časnih sestara. Davno sam učio da su sakramenti vidljivi znakovi nevidljive Božje milosti te bih tako nazivom sakrament nazvao i časne sestre i njihov posao ovdje. Preko njih djeluje Bog i obznanjuje se čovjeku. Toliko puta ste se njima povjerili, jer one imaju više empatije i suosjećanja nego mi muški. Što je vrlo važno, mi smo svećenici uvijek ovdje na propovjedaonici, a one uvijek djeluju u pozadini. Uvijek samozatajno, skrovito, ali uvijek s velikim srcem. Kroz vrlo emotivan, iskren i topao govor fra Josip se zahvalio Bogu što je misijskoj zajednici u Beču dao časne sestre. Na kraju se župnik zahvalio riječima: "Drage sestre ja vam se zahvaljujem što ste smogle vremena i snage i danas došle ovdje da Bogu zahvalimo za vašu prisutnost kroz ovih 50 godina.

Molitvu vjernika ovom prigodom napisala je s. Anica Markelić, a čitala ju je s vjernicama Magdalenom Zovko i dr. Manuelom Marinčić.
Poslije popričesne molitve, u ime Školskih sestara franjevki Krista Kralja Bosansko – hrvatske provincije Prečistog Srca Marijina, vjernicima se obratila s. Kata Karadža provincijska predstojnica. U svom govoru je pozdravila fra Josipa i braću franjevce, vjernike i sestre. Zahvalila se zatim Bogu za 50 godina djelovanja naših sestara u HKM u Beču. Istaknula je da su sestre uz franjevce kroz ovih pet desetljeća uključene u život ove vjerničke zajednice i na raspolaganju su našem narodu. S. Kata se zahvalila braći franjevcima iz Beča koji su kroz proteklo vrijeme pružali pomoć Bosansko-hrvatskoj provinciji u mnogim potrebama, uz materijalnu pomoć zahvalila se i za suradnju, zajedništvo, podršku i poštovanje koje su sestre ovdje doživjele. Nadalje se s. Kata zahvalila i svim sestrama Provincije koje su ovdje služile i time doprinijele i pomogle ljudima koji su izvan svoje domovine. Dragim vjernicima se s. Kata zahvalila što su uvijek uz nas i što nas podržavaju kroz molitvu i pomoć. Posebno se zahvalila za dugogodišnju pomoć našoj Ustanovi za prihvat i odgoj djece u Maloj školi u Varešu. Također se zahvalila za pomoć koju su vjernici prikupili za naše misijsko poslanje u Ugandi. S. Kata je na kraju rekla da Bog vječnim životom nagradi sve pokojne svećenike, sestre i vjernike koji su imali udjela u djelovanju Hrvatske katoličke misije u Beču. I zaključila je riječima: Dao Bog da još dugo godina zajedno radimo na njivi Gospodnjoj. Hvala svima. Mir i dobro.

Pred sam kraj svete mise, poznati glazbenik Josip Čenić je uz zvuke gitare s emocijom otpjevao pjesmu: Pusti me majko. Pjesmu je napisala njegova teta Anka Petričević, s. Marija od Presvetog Srca, sestra klarisa, a uglazbio ju je sam glazbenik.

Na kraju svete mise fra Josip je pažljivo izrekao zahvalu svim sestrama te nabrojio i sestre koje nisu bile na slavlju, one koje su preminule i one koje nisu više među nama, tako da su se u Beču čula imena svih sestara koje su prošle kroz HKM Beč.

Pjevanje i sviranje na svetim misama vodila je naša s. Mira Bliznac. Na prvoj misi je pjevao dječji zbor, a na pučkoj misi župni mješoviti zbor uz soliste: s. Miru Bliznac, s. Josipu Pavlu Jakić i vlč. Ivana Bingulu.

Nakon obje svete mise fra Josip je pozvao vjernike na druženje sestara s vjernicima uz kavu u župnoj dvorani. Vrijedne ruke naših vjernica i vjernika, pripremile su razne kolače, pite, kekse i kiflice kao i tople i hladne napitke za ovo druženje, na čemu smo im jako zahvalne, kao i na posluživanju i druženju sa sestrama. Zajednički smo se obogatili ovim susretom, na licima sestara, vjernika i franjevaca se mogla vidjeti radost zbog zajedništva koje smo doživjeli jedni s drugima.

Nakon druženja s vjernicima nastavili smo druženje s braćom franjevcima u samostanskoj blagovaonici uz svečani ručak, ugodni razgovor i koju pjesmu. Sestre i fratri su izmijenili i darove, s. Kata je predala uime Provincije poklone franjevcima i sestrama u Beču, a fra Josip je u ime vjernika i franjevaca predao sestrama prigodne poklone. Druženje smo završile u popodnevnim satima, zahvalom koju je u ime sestara koje su bile u Beču izrekla s. Bonifacija Pranjić.

Bio je ovo uistinu jedan iskren, opušten i lijep susret sestara međusobno, s vjernicima Hrvatske katoličke misije u Beču, te s franjevcima s kojima smo ovdje već pet decenija.
s. Dragana Tomić